Our team is committed to continuing to serve all your real estate needs while incorporating safety protocol to protect all of our loved ones.
In addition, as your local real estate experts, we feel it's our duty to give you, our valued client, all the information you need to better understand our local real estate market. Whether you're buying or selling, we want to make sure you have the best, most pertinent information, so we've put together this monthly analysis breaking down specifics about the market.
As we all navigate this together, please don't hesitate to reach out to us with any questions or concerns. We're here to support you.
– North Point Real Estate Group | DRE# 02014153
Welcome to our September newsletter. This month, we discuss the effects of increased single-family home and condo inventory in San Francisco and examine the connection between per capita income and home prices, which can help explain why median prices remain stable despite the supply increases. Over the past few months, the market has flipped from favoring sellers, which has been the norm in San Francisco, to favoring buyers, especially in the condo market. As the market ebbs and flows, we continue to provide you with the most up-to-date market information, so you feel supported and informed in your buying and selling decisions.
In this month's newsletter, we cover the following:
Key Topics and Trends in September: Pinterest Inc.'s lease break, which ends the company's plans to expand its San Francisco office space, underscores the larger trend toward more permanent remote work. The increase in remote workers has dropped rental rates, but it has not affected home prices.
September Housing Market Updates: Inventory remains higher than normal, which has not significantly impacted price thus far. The Days on Market (DOM) for condos, however, has increased dramatically as more and more condos come to market.
Key Topics and Trends in September
The pandemic tested the efficacy of large-scale remote work, causing companies to reconsider the need for massive office spaces. Notably, Pinterest announced in late August 2020 that it paid $89.5 million to terminate its lease on a yet-to-be-built 490,000 square foot office space. The choice reflects Pinterest's reevaluation of its workforce needs, and its realization that more employees can work from home on a regular basis. Pinterest is showing another "new normal" for companies: hiring employees from different parts of the country without requiring those employees to relocate near the office. As a result, companies and employees are even less restricted by geographic location than they ever have been in the past.
SFGate reports that San Francisco is not going through an abnormal population exodus; rather, San Francisco simply is not seeing the usually high number of people moving to the city. The effect remains mostly the same in that there is less renter demand, which has caused one-and two-bedroom apartment prices to drop around 15% year-over-year.
Although fewer people moving to the city sounds like it would lower the demand for homes and, therefore, decrease home prices, the median home price has actually remained stable through August. In order to explain why prices have not changed, we can look to affordability. According to the California Association of Realtors, a median homeowner needs to earn a minimum income of $322,000 and be able to pay $8,000 per month for mortgage, taxes, and insurance. This type of wealth is far different than the average renter, who now pays less than $3,000 per month.
Unlike many other cities around the country where the cost of a mortgage is similar to the cost of rent, San Francisco maintains a large gap between those that can afford rent versus those that can afford a mortgage. The rental market, which is receiving a lot of press for its steep decline, does not foreshadow a decline in single-family home prices.
September Housing Market Updates for San Francisco
In August, single-family home and condo prices remained relatively unchanged despite more inventory coming to market.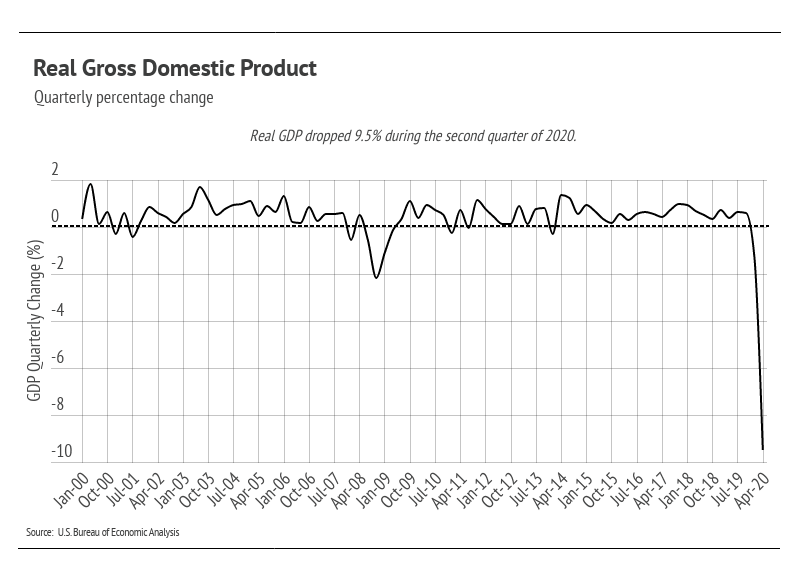 The number of continued unemployment claims, those that continue collecting unemployment after their initial claim, has not dropped as precipitously as was hoped. As mentioned in previous newsletters, the initial projections for when the virus would be under control was mid-July, which did not come to pass. As the United States navigates its way through its pandemic response, 16 million unemployed workers continue to collect unemployment benefits. Economists estimate that the actual number of unemployed workers is around 25 million.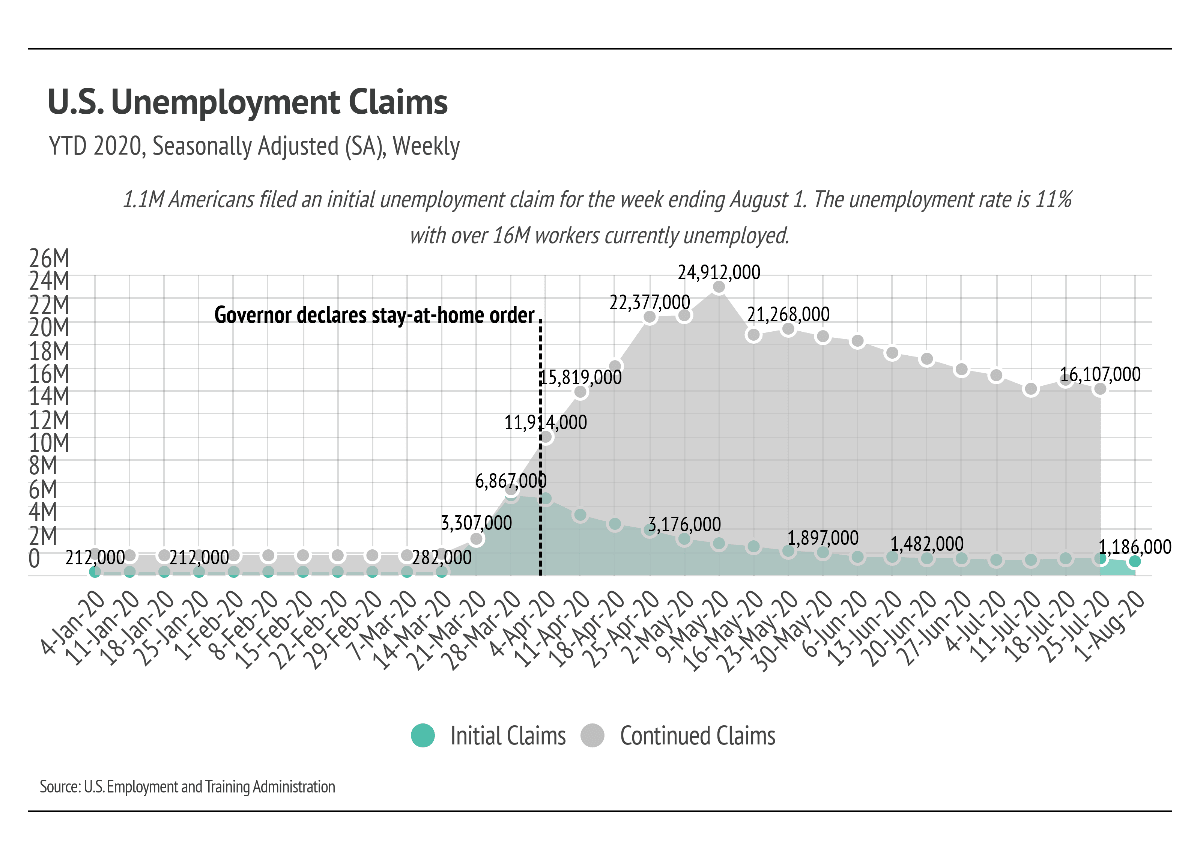 Unemployment claims continue to cause some of the biggest concerns about the overall economy. If people continue to collect unemployment rather than going back to work, those cases will turn into permanent, rather than temporary, job losses. Moreover, many businesses face permanent closure as time passes, which permanently reduces the total number of jobs available.
Fewer jobs amid already high unemployment rates could lead to a long road to economic recovery and evictions. In the short-term, rental properties may experience a squeeze in profits. As we continue to monitor the market, we will look for unusual upticks in rental properties coming to market, suggesting this trend is underway.
On the other hand, the pandemic has left many with more money than usual as their personal spending has dropped considerably. Those interested and able to buy a home are in the lowest interest rate environment in history. Freddie Mac reports that the interest rate on a 30-year fixed mortgage is at 2.88%. This is the first time the rate has dropped below 3%. 
As we have discussed in previous newsletters, the affordability of a home increases (or decreases) significantly with each percentage of interest. A loan for a median-priced home from January 2020 at a rate of 3.72% costs $700 per month more than a loan at 2.88%, amounting to $250,000 over the life of the loan. As a result, we have seen a boom in refinancing, which we expect to continue for homeowners who do not wish to move. For buyers (or refinancers), this could be the lowest interest rate they will experience in their lifetime and an excellent time to execute the purchase of a home.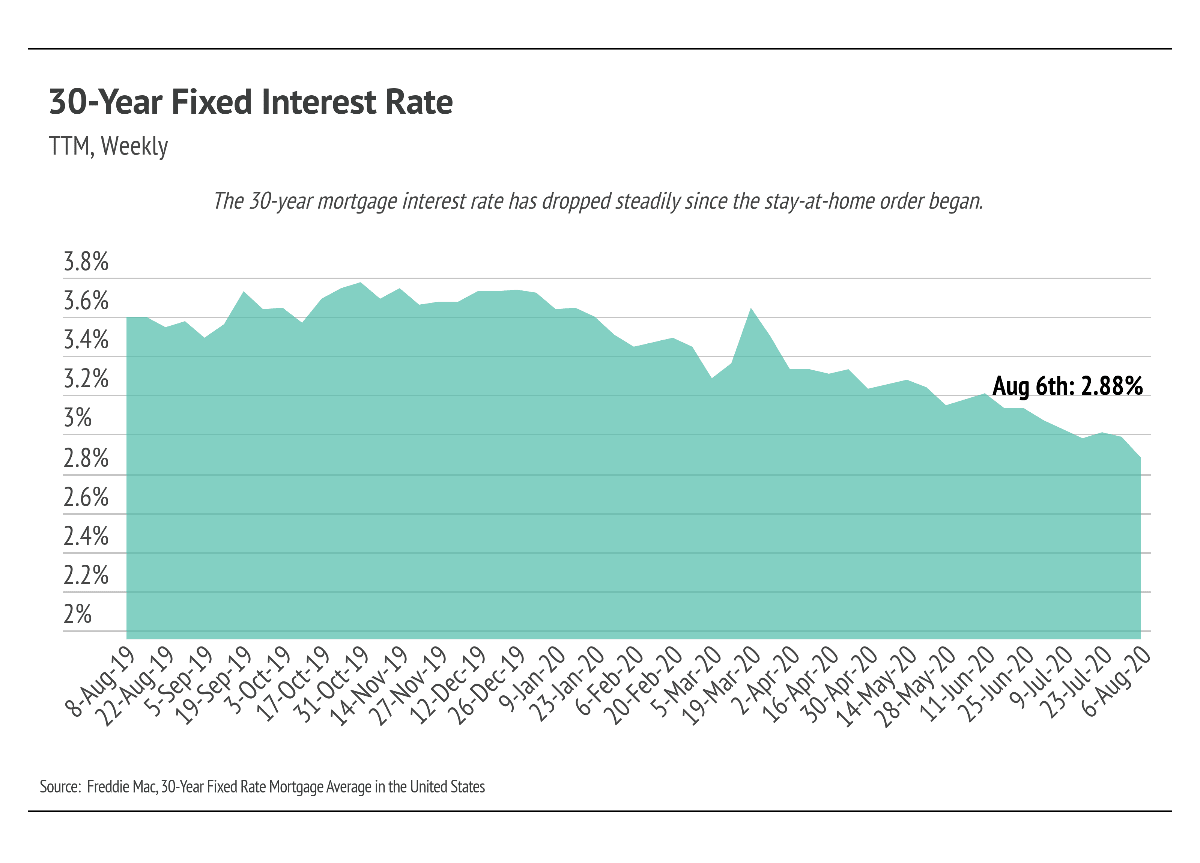 August Housing Market Updates for San Francisco
In July, single-family home prices dropped slightly from the June 2020 all-time peak as more inventory came to market. The condo market saw a noticeable increase in median price and looks to be rebounding.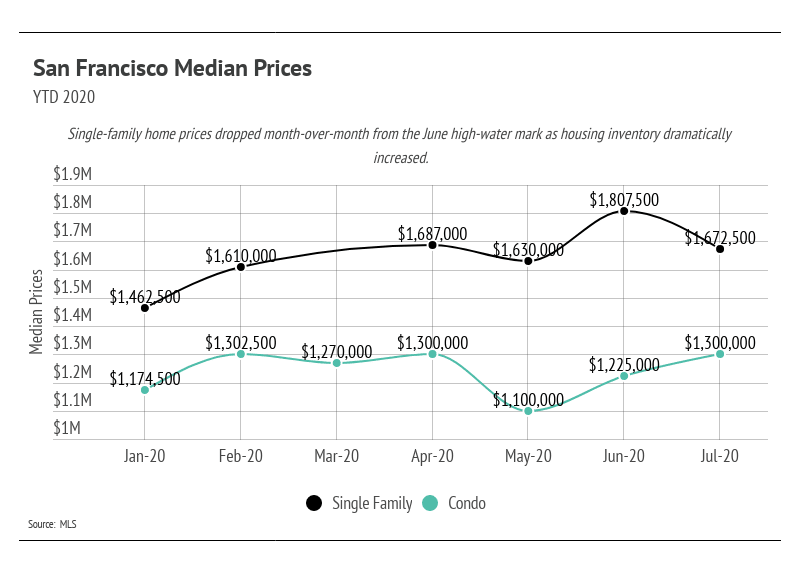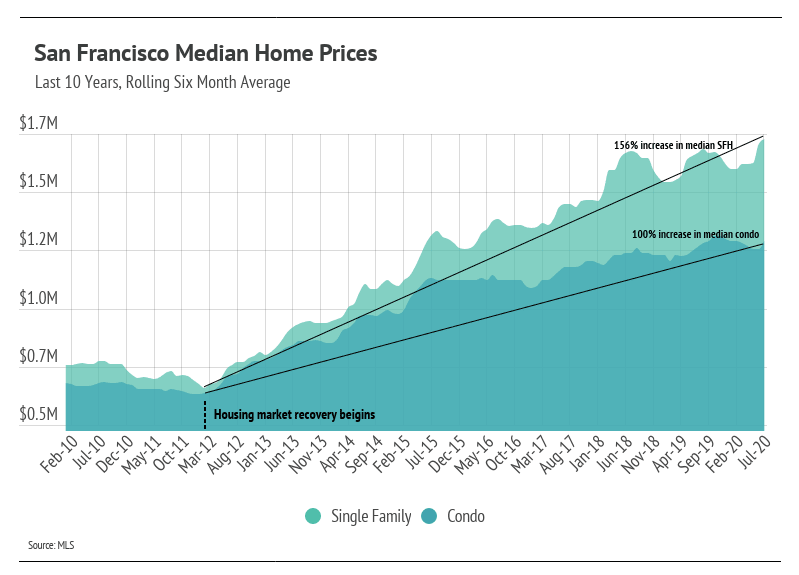 Year-over-year, single-family home prices are up 6% from this time last year, while condos are up 3%.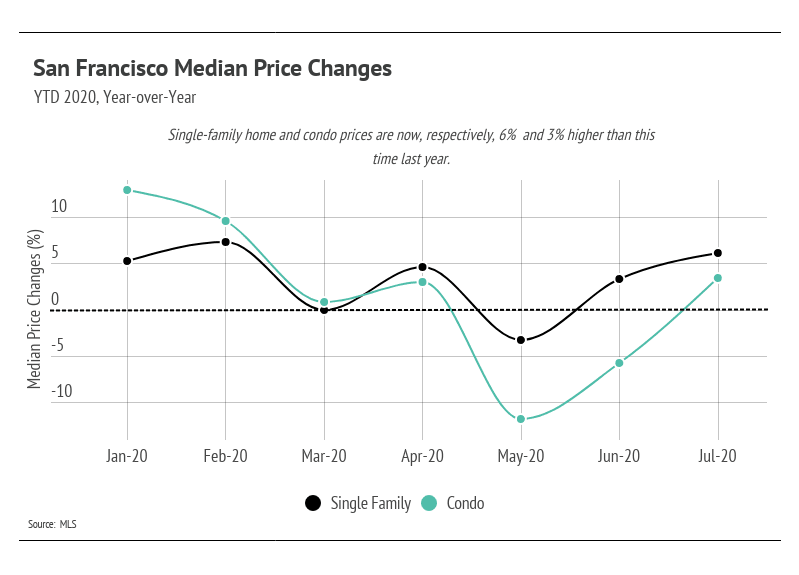 SFGate reports that the inventory of homes for sale increased to the highest levels since the 2008 recession. Typically, a surge in supply would bring down prices; however, demand still outpaces supply even with the 40% year-over-year increase in active listings. San Francisco's prices tend to be buoyed by lack of supply compared to demand, which still remains true. We believe that the supply will make the market more efficient in that buyers will have more options to find what they actually want, leading to more sales. San Francisco needed more supply, so we view the influx as a net positive for the market.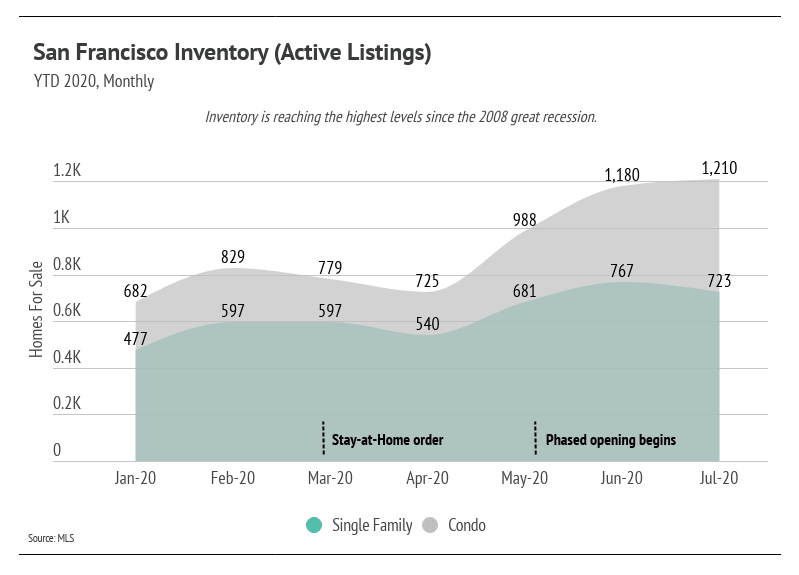 We can look to Months of Supply Inventory (MSI)—the measure of how many months it would take for all current homes for sale on the market to sell at the current rate of sales—as a proxy for demand. MSI has an average of three months in California. An MSI lower than three means that buyers are dominating the market and there are relatively few sellers; a higher MSI means there are more sellers than buyers. In July, the MSI for single-family homes fell well below the three-month mark and now heavily favors sellers once again. The MSI of condos was not as tight; however, it is trending lower even with increasing inventory.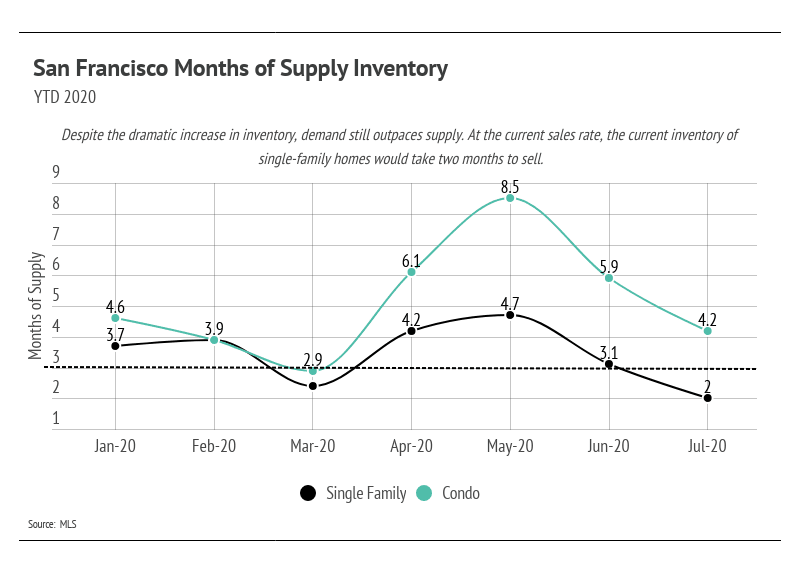 As we would expect, the number of homes under contract continued to trend upward in July, which contributed to the falling MSI and highlights the amount of demand even further. Single-family homes under contract increased 48%, and condos increased 21% year-over-year. Based on these metrics, we believe the housing market is thriving. We've seen reporting on a rumored exodus from the city for bigger, less expensive spaces, but the data shows the contrary.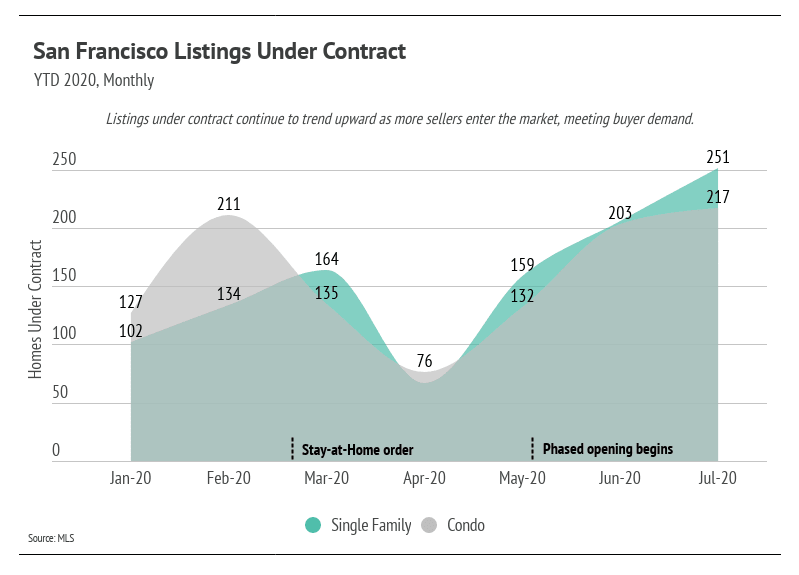 We can also analyze home sales—the result of homes under contract that close within 30 days—on a monthly basis, while also comparing them to last year's numbers. Sales are close to flat year-over-year for both single-family homes and condos, which is a remarkable recovery from May's year-over-year sales volume. Increased inventory combined with homes under contract resulting in sales suggests that sales volume should continue rising.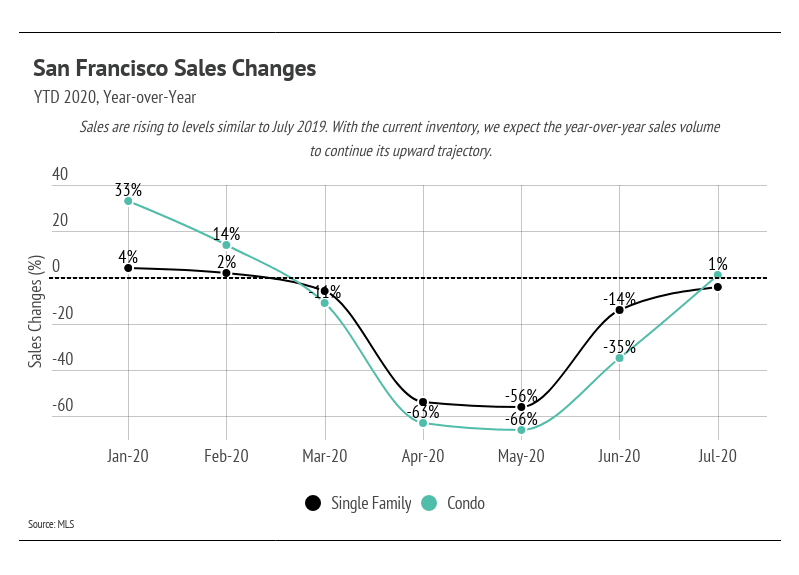 As both inventory and sales increase, the percentage of homes with price changes has increased as well. This is a natural phenomenon with higher supply levels and does not indicate price contraction.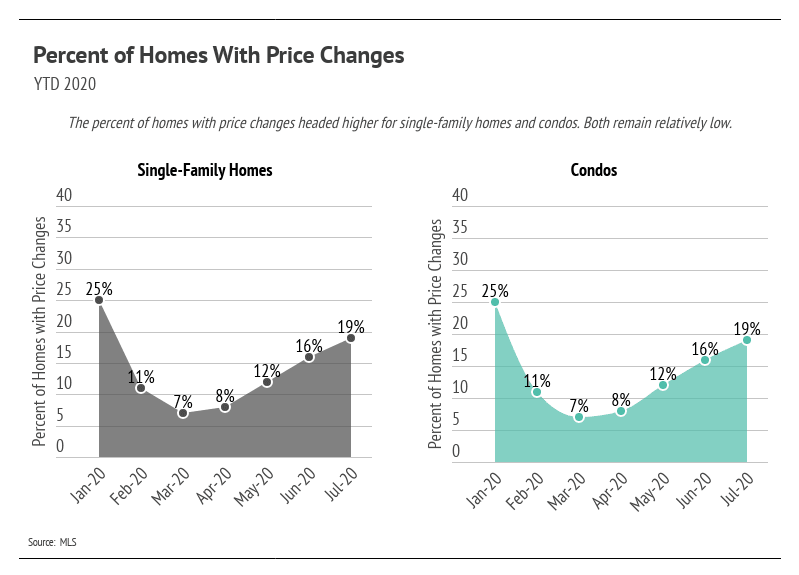 Record prices attest to the fact that homes are generally selling above list prices. July's sale-to-list ratios—which compare the prices buyers pay to the listed prices of homes—suggest that buyers are not paying large premiums. The chart below illustrates the price that the average San Francisco buyer negotiated to put a property under contract, and whether or not it was above or below list price. In July, both single-family homes and condos sold in-line with original list prices. Single-family home and condo buyers can expect to pay around the listed price.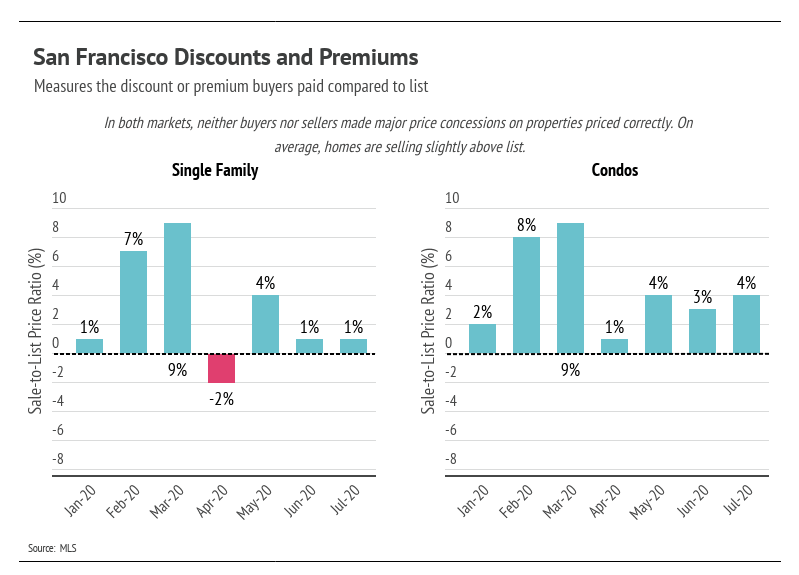 In summary, the difficulty that the housing market experienced in March through June, as evidenced by sales volume and supply, has subsided. The housing market has shown its resilience through the pandemic and remains one of the safest asset classes. Whether you are buying or selling a home, it is still incredibly important to seek out the advice of real estate experts.
Moving forward, we anticipate more sellers coming to market. The initial seller reticence caused by COVID-19 seems to have subsided, increasing supply. As more supply becomes available, there could be a small price correction in the market, but we do not believe that will occur during the summer months while demand is so high.
As always, we remain committed to helping our clients achieve their current and future real estate goals. Our team of experienced professionals are happy to discuss the information we have shared in this newsletter. We welcome you to contact us with any questions about the current market or to request an evaluation of your home or condo.