When I think of springtime in San Francisco, I think of sunshine and tulips and REAL ESTATE!  This is always the time of year when we see the most listings come on- and, for me at least, the months between March and July are always the busiest.

We are about ready to bring on a new batch of North Point listings, and we've already gotten several buyers into contract this year (all competing in multiple offer situations)- so the market is still strong thanks to continued low interest rates and super low inventory.  So far the Coronavirus scare has not impacted our market too much, nor have the stock market ups and downs- and let's hope it stays that way.

Check out our recap of last year's market, and our analyst's predictions for 2020 below.  Also, in January, the city passed some new laws that you should definitely know about if you are the owner of a rental property here in SF.  Scroll to the very bottom of the newsletter for those.

Thanks for reading, and if I can help you with anything don't hesitate to ask!

– Mike Annunziata, DRE #1948146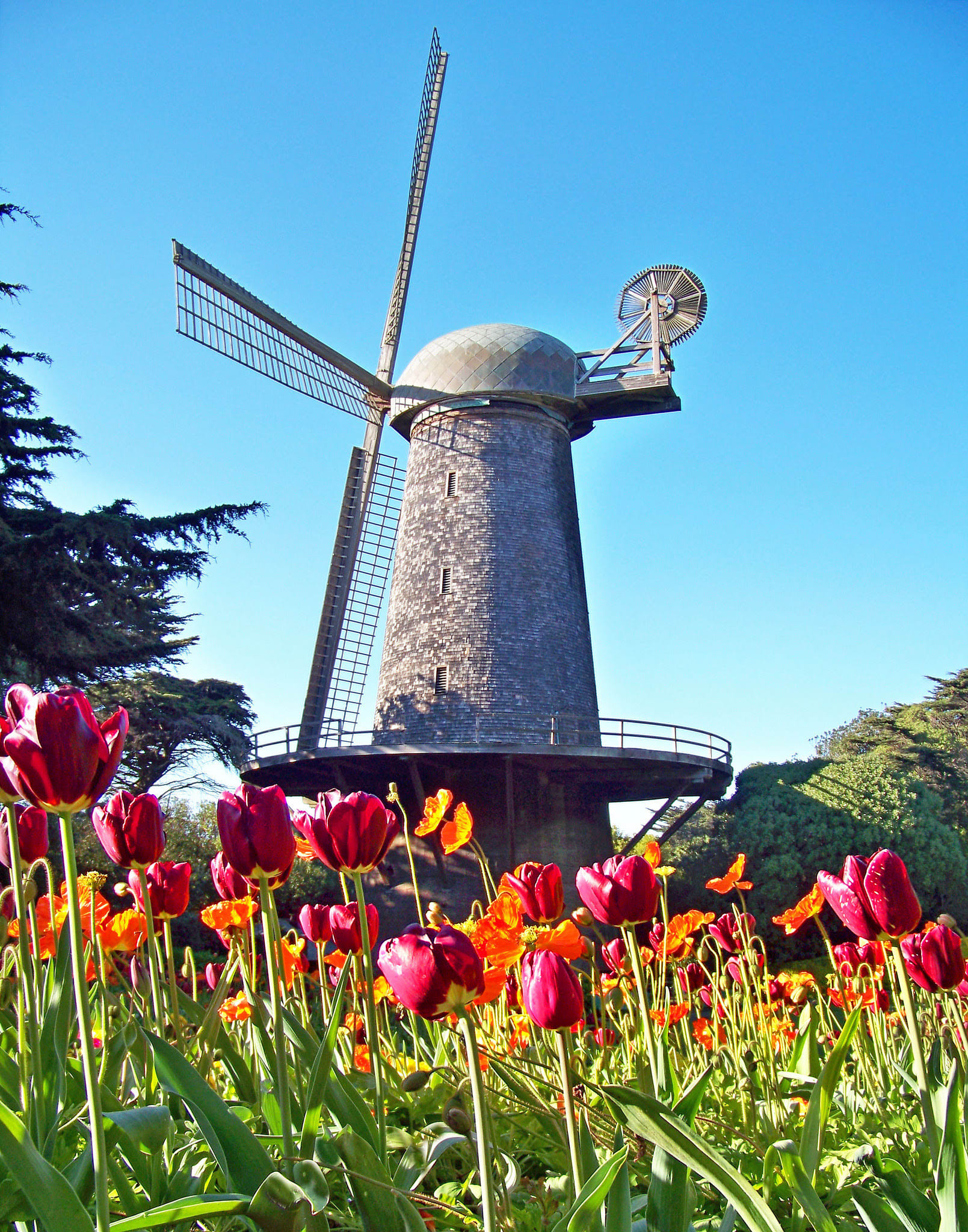 Welcome! In February's newsletter, we review 2019's biggest housing trends for the San Francisco market and share our predictions for the year ahead. What will happen to home values in 2020? Will San Francisco become more or less affordable? Will interest rates go up? We'll answer these questions and more in the following sections:
2019 Economy and Housing Market in Review
Economic and Housing Market Predictions for 2020
Median Price Predictions for San Francisco in 2020
DOM Difference Between Homes With and Without Price Reductions
---
The 2019 Economy and Housing Market in Review 
In 2019, the national economy grew at a steady, healthy pace. Employment remained near all-time lows, and gross domestic product (GDP), a measure of all goods and services produced during the year, grew by more than 2%. In spite of some potentially negative economic events, such as the trade war with China, the U.S. economy remained strong. The wage growth from October 2018 to October 2019 tied with the growth from April 2008 to April 2009 for the largest year-over-year increase in the past decade. The country also added 312,000 jobs in December, nearly doubling November's job growth of 176,000.
---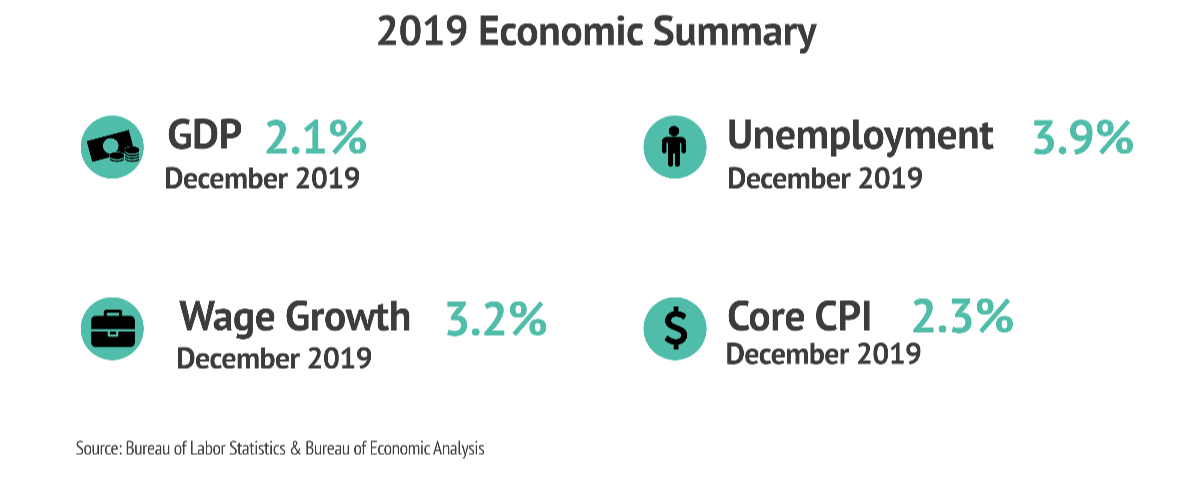 ---
The Federal Reserve surprised a lot of folks by reducing the federal funds rate three times in 2019 in order to maintain a thriving economy. The federal funds rate, which indirectly impacts a variety of consumer interest rates including credit cards and car loans, significantly affected mortgage rates in 2019.
After rising in 2018, last year's mortgage rates returned to historic lows. Lower rates typically improve housing across all markets by giving home buyers access to cheaper financing.
In June 2019, home prices in San Francisco hit their yearly peak. While this trend is typical for the spring months, it was accelerated by falling rates. The chart below shows interest rates decreasing and home prices increasing.
---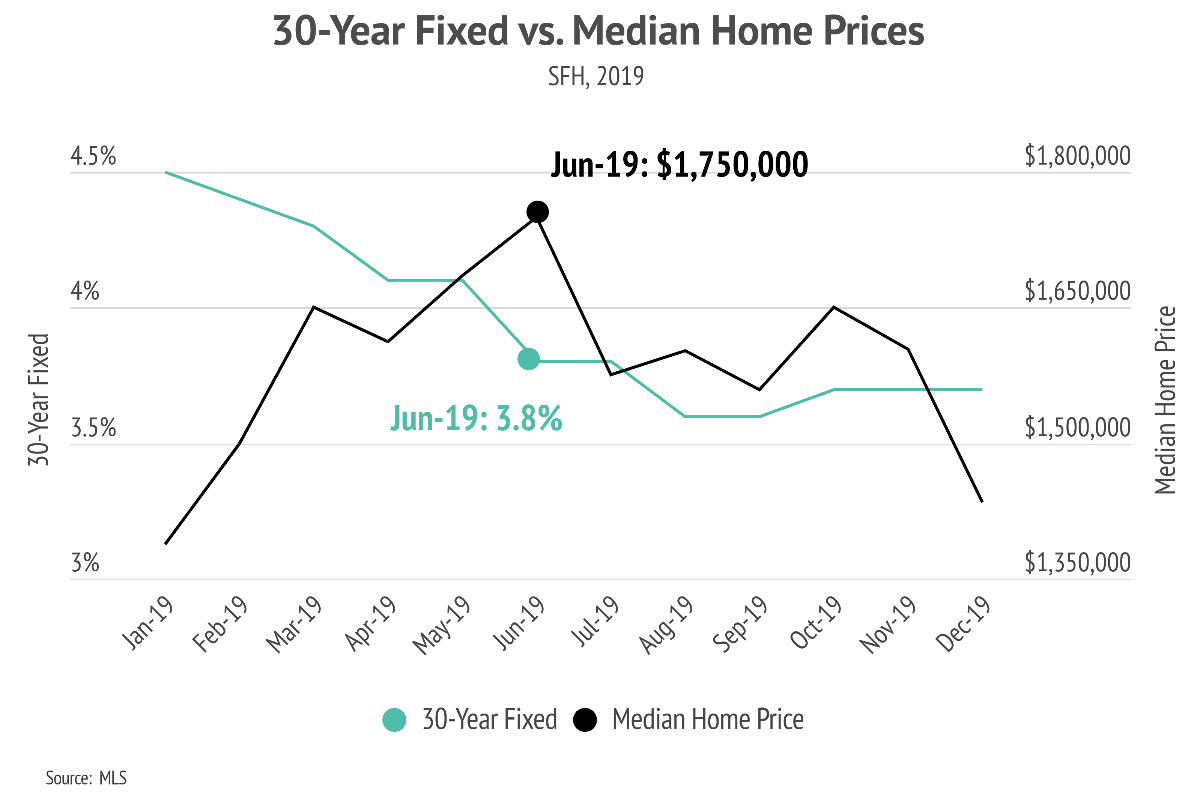 ---
In the latter half of the year, home prices pulled back from their spring highs while interest rates fell even lower, increasing affordability. In California, mortgage payments fell by 7.4%, the largest decline in the last five years. This drop more than offset the 10..4% increase in median home prices, and mortgage payments declined for nine consecutive months.
---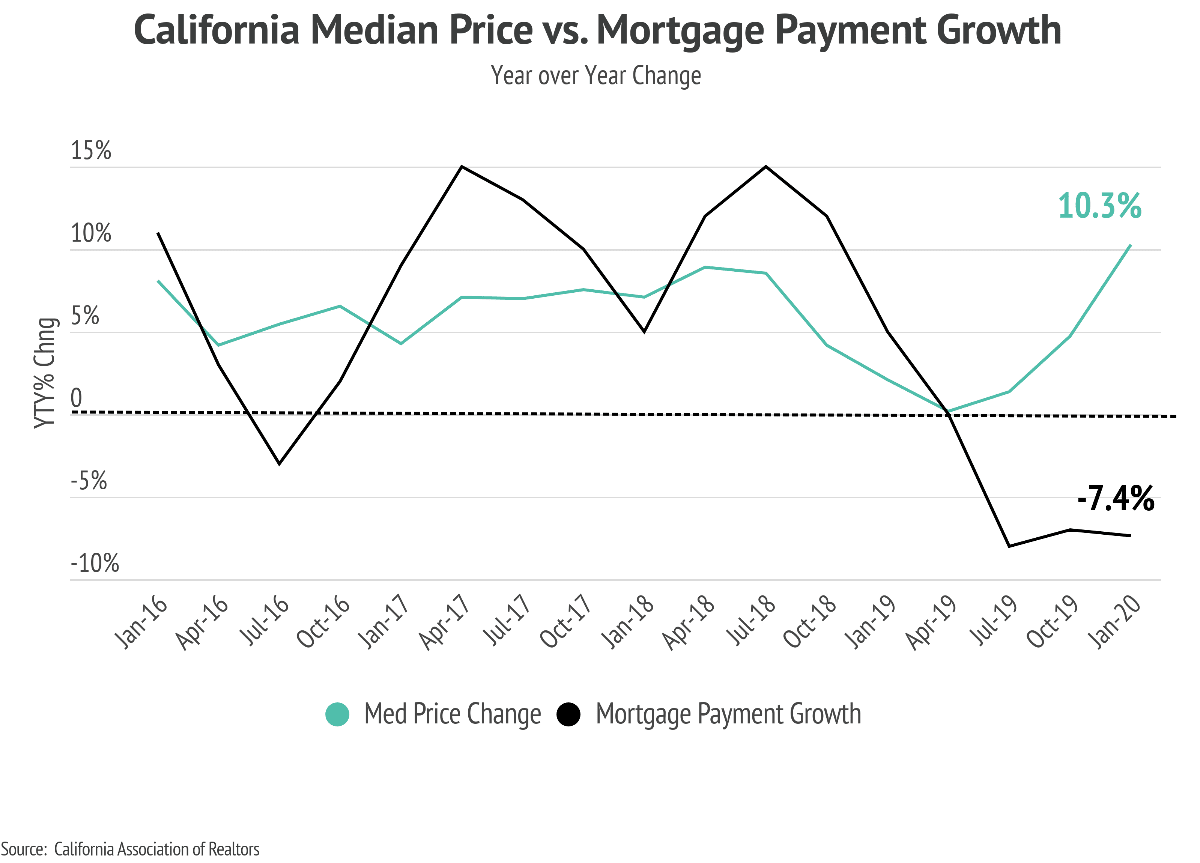 ---
Like all major areas in California, San Francisco became more affordable. Looking at the chart below, you can see monthly mortgages decreased by over 11% in the Greater Bay Area, meaning lower interest rates benefited both buyers and sellers in 2019.
---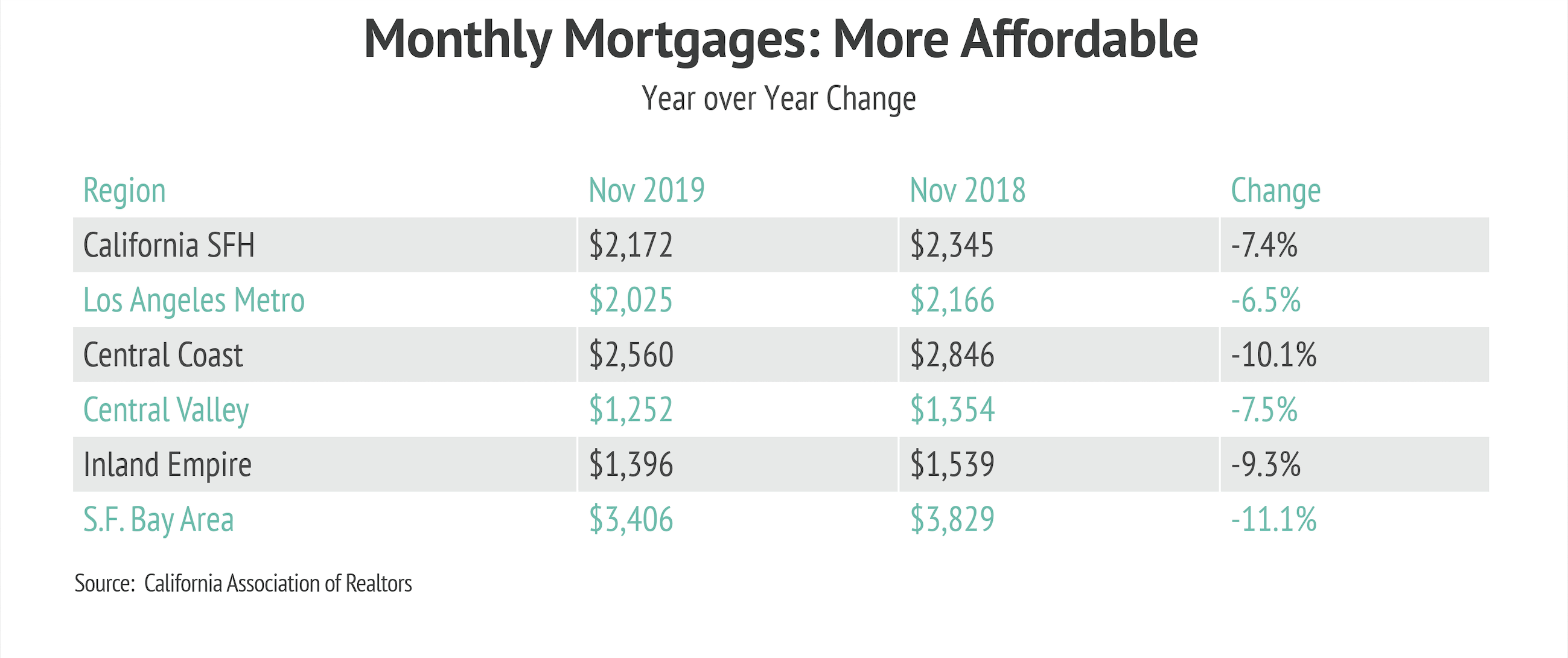 ---
San Francisco has struggled with affordability since the recovery from the last economic recession and was one of the few areas in California that did not end the year up in median single-family home prices. In 2019, a year of increased affordability throughout the state, San Francisco median home prices settled slightly down for single-family homes and up only slightly for condos.
---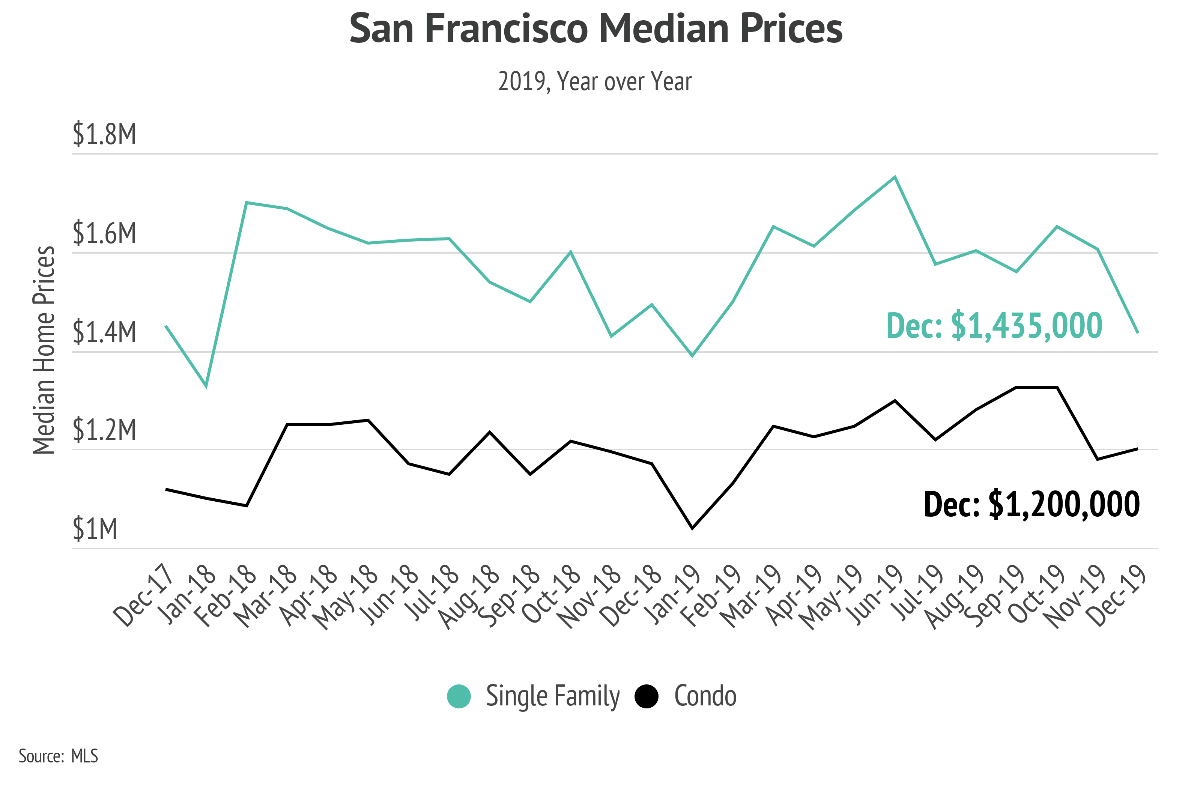 ---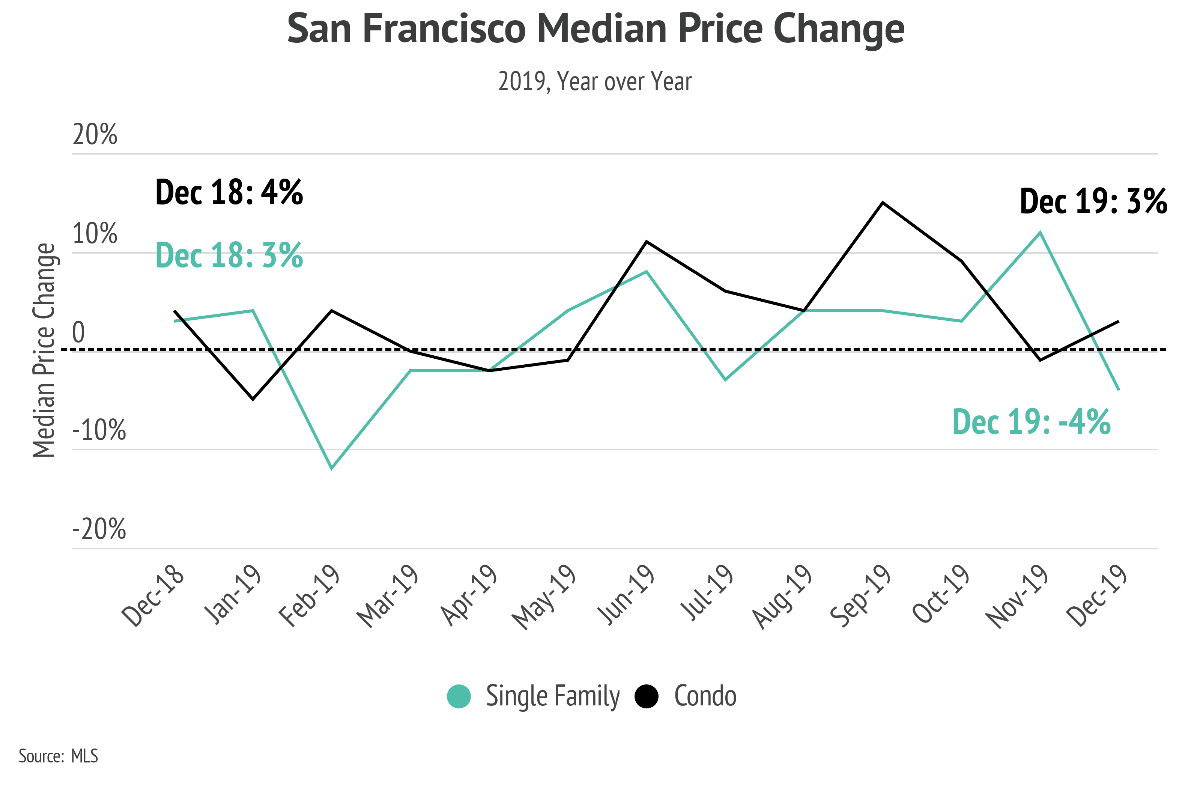 ---
This makes sense considering the lackluster performance by the city's other key housing indicators. Sales spent much of the year lower even though single-family home sales climbed in December to finish 6% higher than the prior year. This is due to much lower interest rates this time around.
---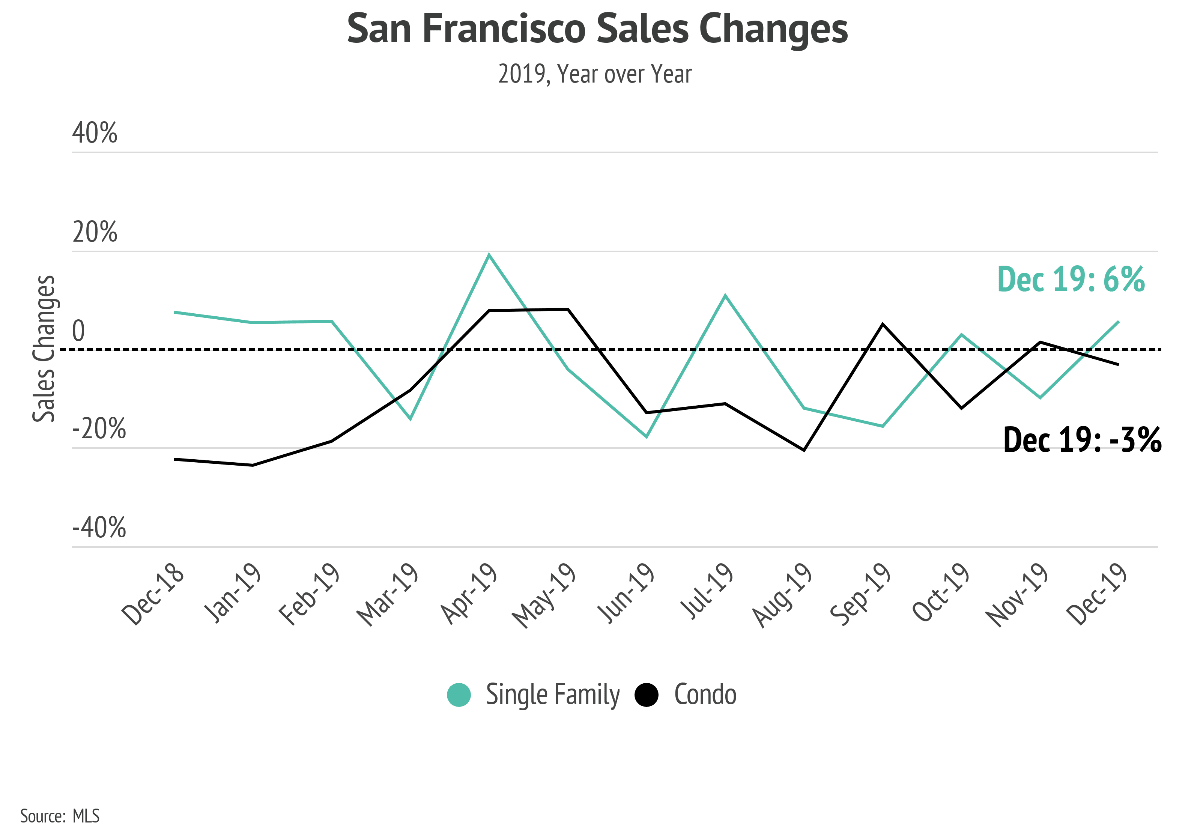 ---
Sales are languishing because there simply aren't many homes on the market to sell. Months supply of inventory, a measure of how many months it would take to sell all the active listings on the market at the current rate of sales, fell in California for the seventh straight month, down 22.5% from December 2018. This was the fourth consecutive double-digit drop and the largest since April 2013.
Inventory shortages at the start of 2019 were already severe, and San Francisco's months supply plummeted to extremely low levels by the end of the year. In December, a month that usually has seasonally higher levels of supply due to slow holiday sales, supply tightened further to one month for single-family homes. Typically, such low levels of supply would push up home prices, but in San Francisco, it appears home prices have hit a ceiling.
---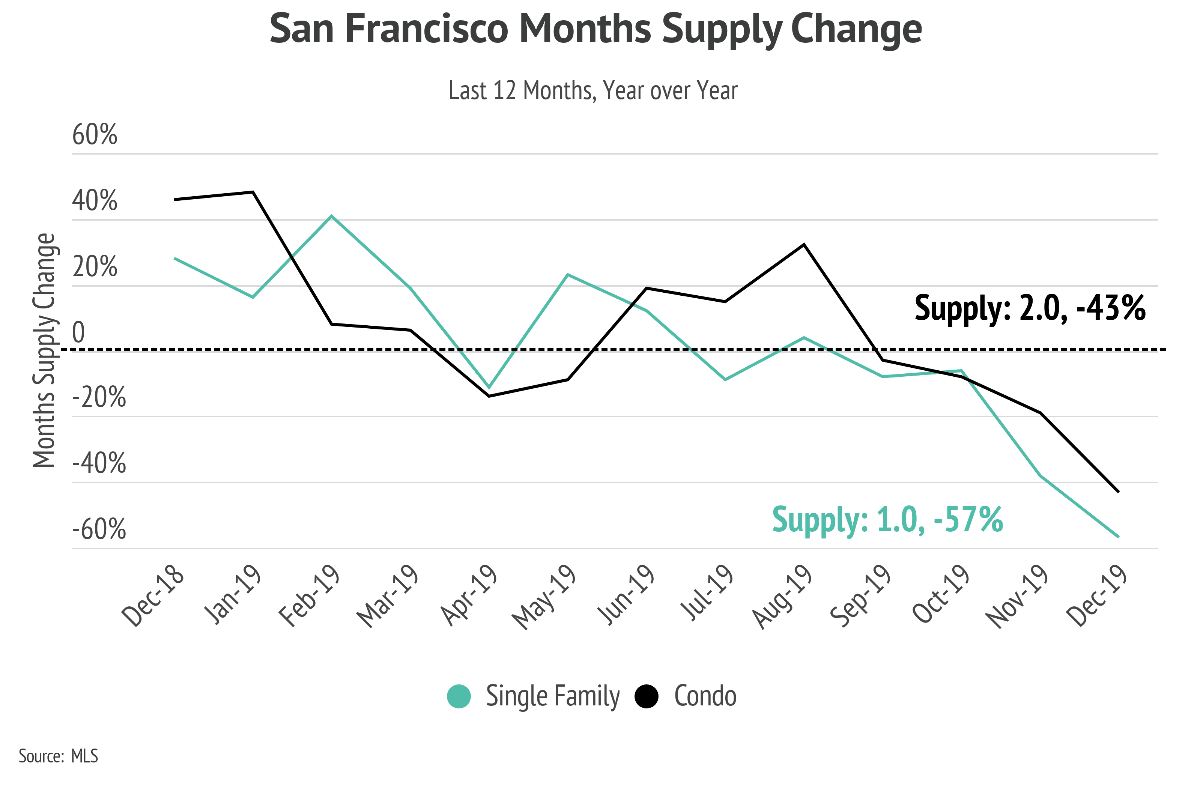 ---
Last but not least, in 2019 properties moved much slower for most of the year. Days on Market (DoM), the measure of how many days it takes for a seller to accept an offer from the first day of listing, started the year out with homes taking 20% longer to sell from the previous year. It took until the end of the year for the market to reverse course.
---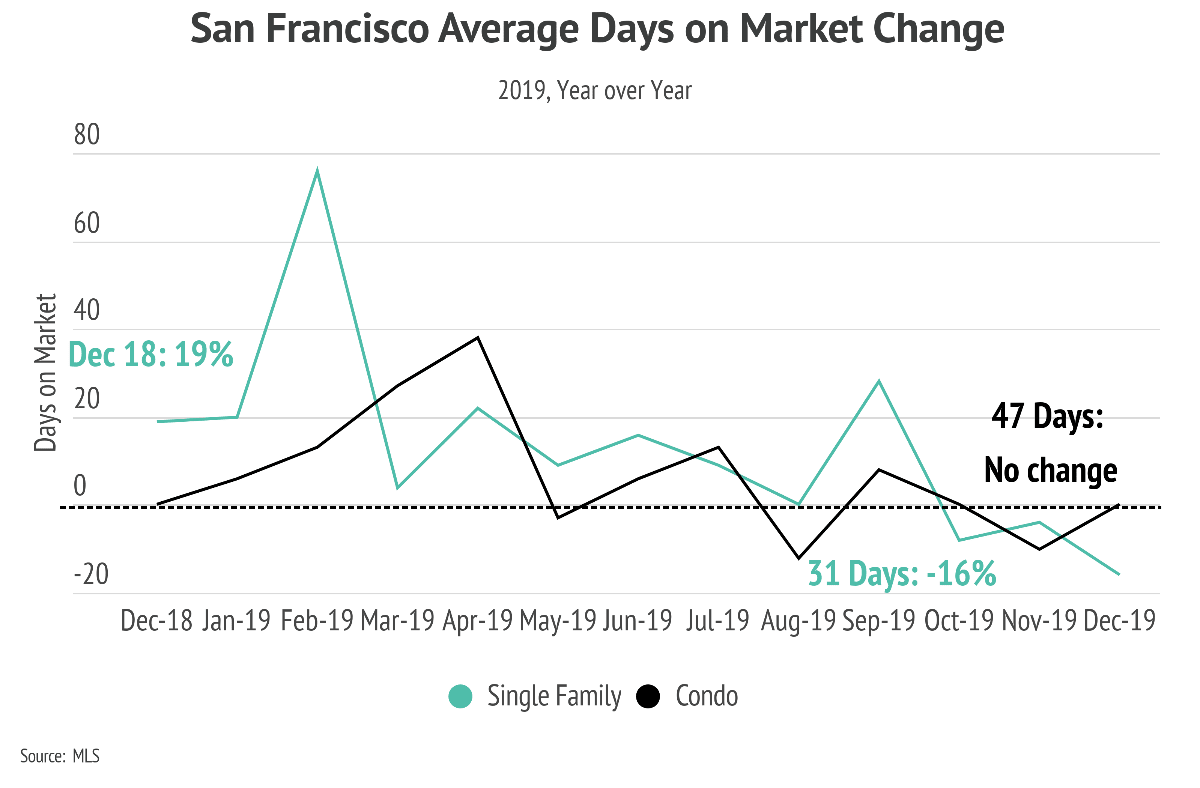 ---
In summary, the 2019 housing market in San Francisco became more affordable for buyers. Although the market still heavily favors sellers due to an overall lack of inventory and available housing, buyers have more breathing room to finance a home without seeing local prices skyrocket.
---
Economic and Housing Market Predictions for 2020
Now it's time to think about the year ahead by weighing various factors that impact both the real estate market and the broader economy.
---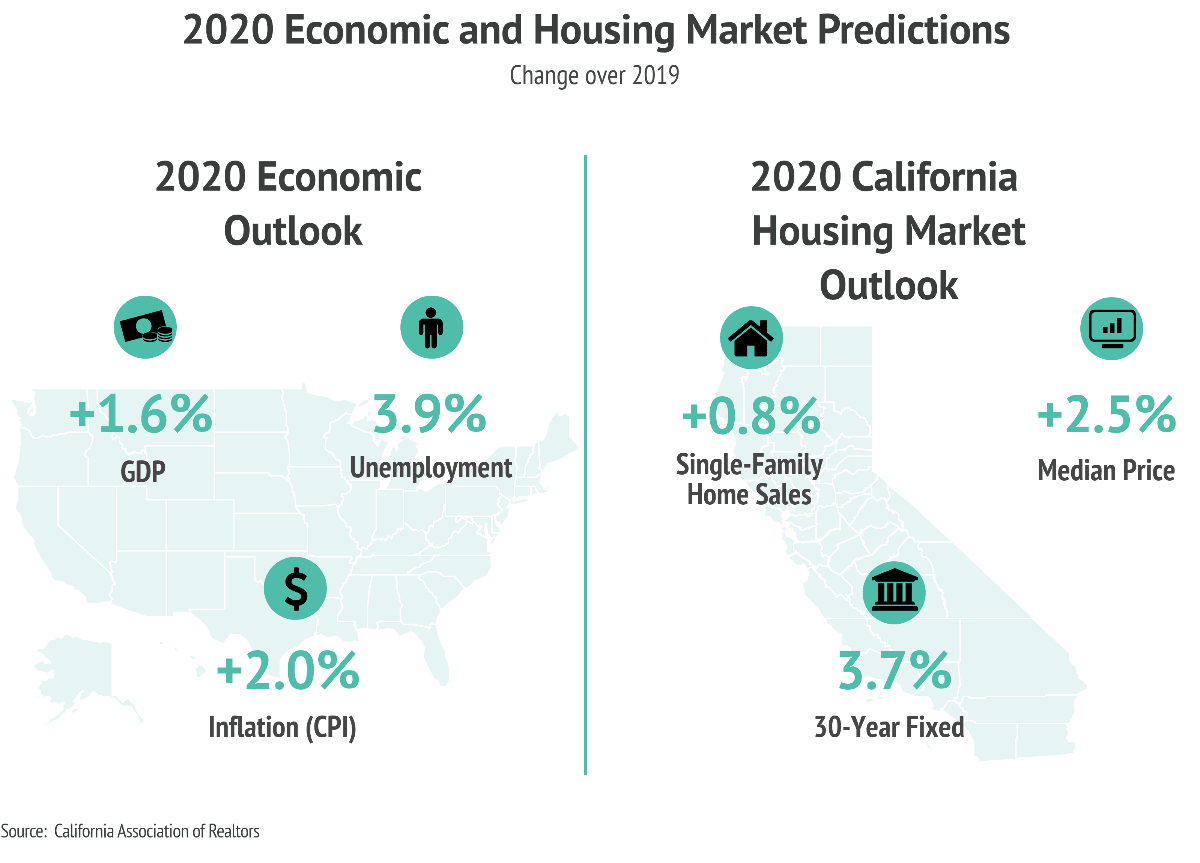 ---
Happily, we're not forecasting a recession in 2020. The stock market is doing well and the trade conflict has died down. While pundits do forecast GDP to decrease slightly and unemployment to increase slightly, we predict it will be another stable year for the housing market.
One of the burning issues in our 2020 forecast is what the Federal Reserve will do with interest rates over the next twelve months. For now, they say they have no plans either to cut or raise rates in 2020.
---

---
A stable economy and a low federal funds rate will keep mortgage rates low by historical standards. The California Association of Realtors (CAR) predicts that the average for 30-year-fixed rates will dip to 3.7% in 2020, down from 3.9% in 2019 and 4.5% in 2018.
---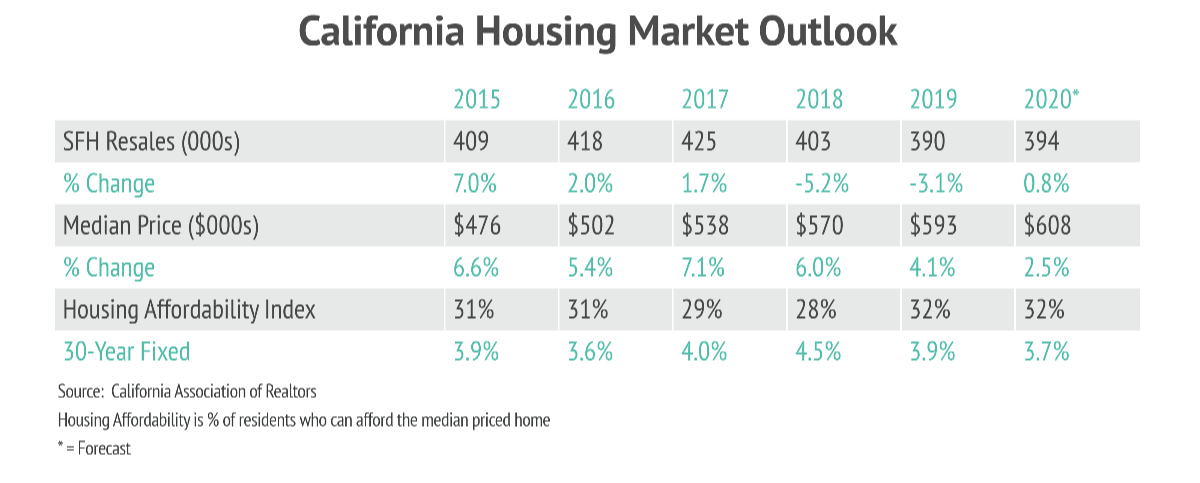 ---
CAR predicts that median home prices will be stable this year, with a slight increase of 2.5%. Affordability will remain unchanged, with 32% of California residents able to buy a median-priced home. Home sales are predicted to increase by 1%.
Like at the end of 2019, this year's homebuyers will face a severe lack of supply, higher home prices, and greater competition. As Jordan Levine, Deputy Chief Economist of CAR, said during the fourth quarter of 2019:
"In some ways, the market is going to start looking like 2016—where inventory was very tight, the market was more competitive on the buyer's side. That leads to more growth but it also limits the amount of sales because we have a significant dip in active listings. We are at the lowest level in almost eight years."
In 2020, we believe the severe shortage of available housing will cause more residents to leave the state. According to CAR's 2019 State of the Housing Market Study, 30% of sellers planning to repurchase said they will buy their next home in a state outside of California. This is the highest rate of prospective buyers moving out of state since 2005.
---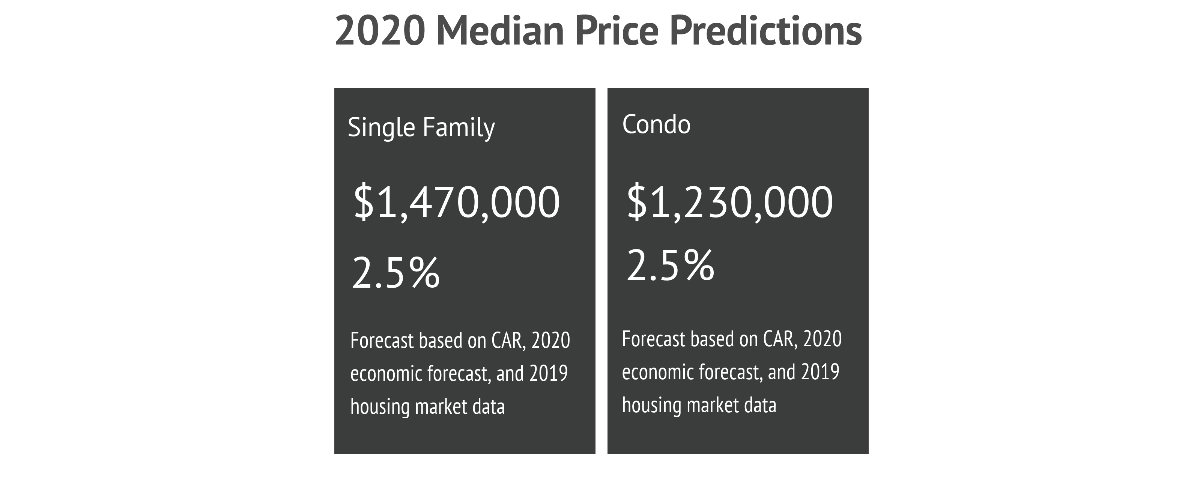 1700 Montgomery St #108 San Francisco, CA 94111