As your local real estate experts, we feel it's our duty to give you, our valued client, all the information you need to better understand the complex San Francisco real estate market. Whether you're buying or selling, we want to make sure you have the best, most pertinent information, so we've put together this monthly analysis breaking down specifics about the market. It's all part of our mission to give you the very best in personalized service. We would love to know what you think!
– North Point Real Estate Group, DRE # 02014153
Welcome to our August newsletter. This month, we'll be covering the following:
Mortgage rates had little impact on home prices in July;
The San Francisco housing market has slowed due to inventory; and
The impact of the above trends on affordability and pricing strategies.
---
Mortgage Rates had Little Impact on Home Prices in July
We're officially in our country's longest economic expansion. The National Bureau of Economic Research reports that as of July 2019, we broke the 120-month record of economic growth experienced from March 1991 to March 2001.

In May, the unemployment rate dropped to 3.6%, which is the lowest we've seen since 1969. Consumer spending is up a point from last year, and retail sales are up over the last few months.

Despite this economic growth, the Federal Reserve (the Fed) lowered the Federal Funds Rate by a quarter point on July 31st, signaling that the economy needs a bit of a push. 

Why?

First, despite this record-setting run, Gross Domestic Product (GDP) only grew cumulatively by  25%, which is far slower than previous expansions. Furthermore, the Consumer Price Index (CPI), which is a measure of overall inflation, sits stubbornly below the Fed's target of 2%.

The Fed seems to be wrestling with the reality of slowing growth, an aging workforce, and low inflation across the United States. In fact, they labeled the rate decrease a 'readjustment' to get interest rate policies in-line with this new economic paradigm.

The Federal Funds Rate indirectly affects consumer borrowing costs, including mortgage rates. For example, Freddie Mac reports that the 30-year-fixed mortgage rate, which fell to 3.75% last week, is down by more than one percentage point since 2018. 

This illustrates that for now, low interest rates are here to stay.

However, something curious happened in July. Despite rates maintaining record lows, San Francisco home prices are down by 7%, as compared to the previous month, and down 2% year-over-year. This is the first time prices have dropped on a yearly basis since April 2019.

Normally, there's an inverse correlation between interest rates and home prices in that lower mortgage rates are usually a boon to the housing market. This month, however, mortgage rates had little impact on the market overall.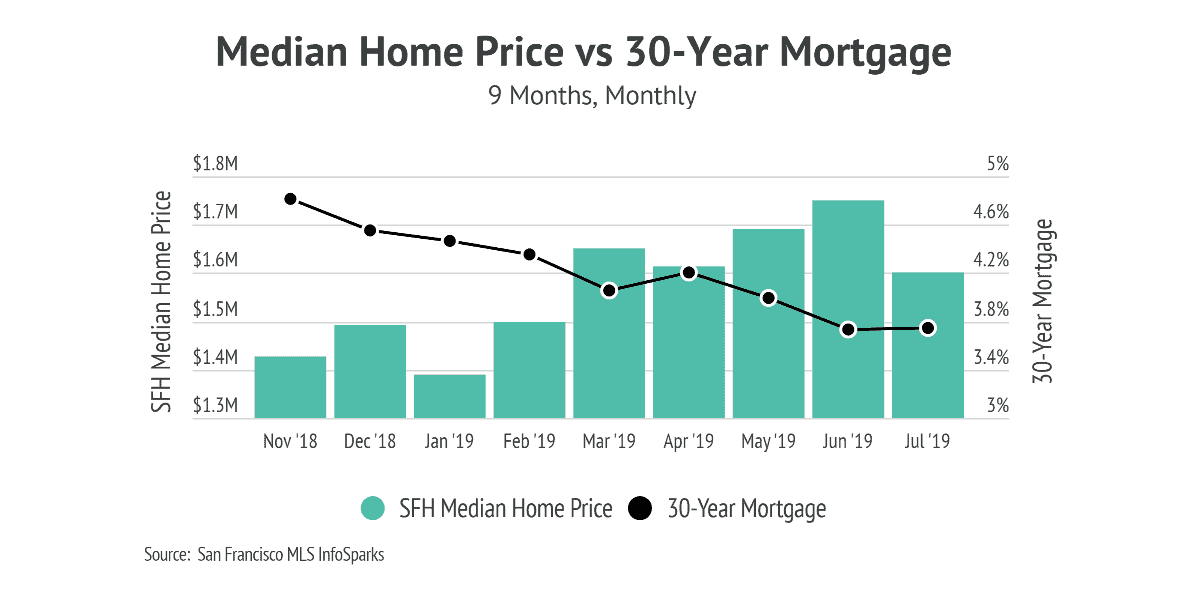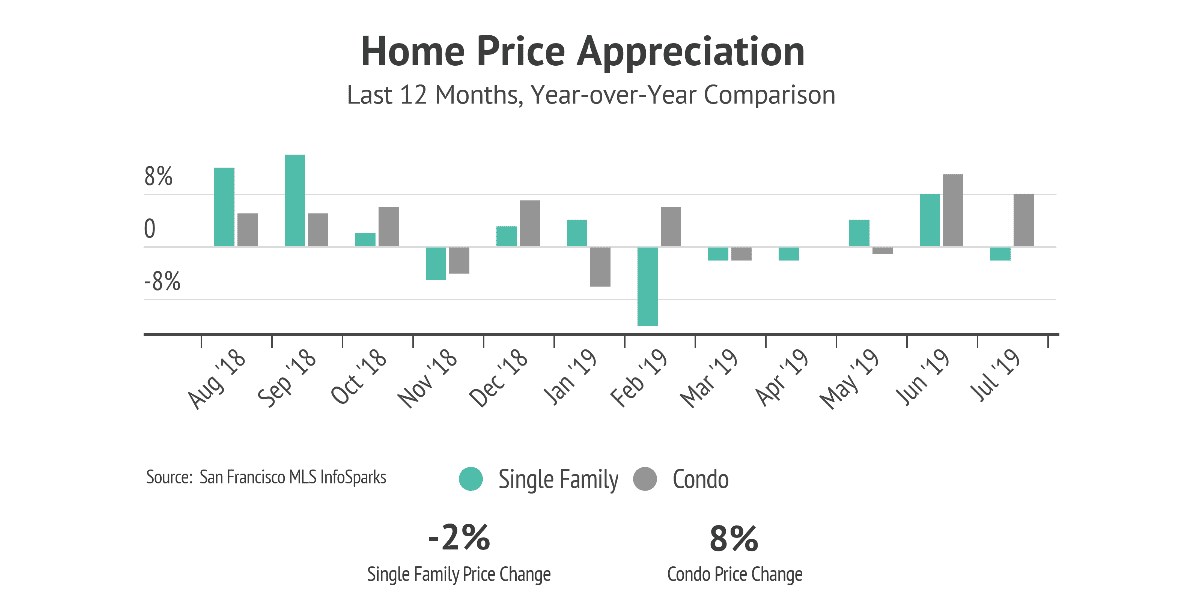 ---
The disconnect between mortgage rates and home prices poses a problem for the Fed's efforts to stoke economic expansion. It also exposes a couple of concerns in the housing market, especially in California and San Francisco.
The first matter is affordability. Since June 2009, when the U.S. economy started its current expansion, the median price of existing homes in the United States rose by almost 60%, far outpacing the median earnings growth of 24%.
---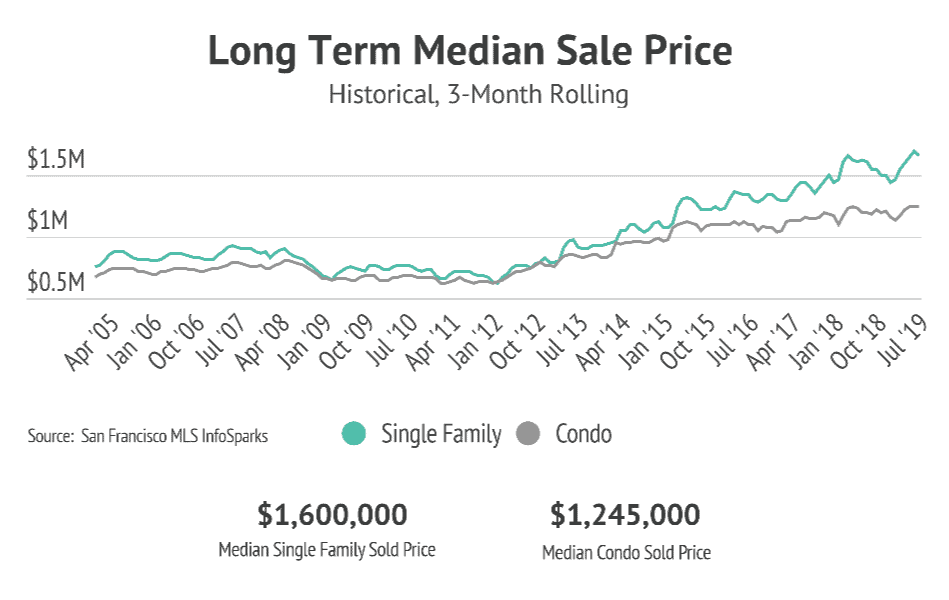 ---
Let's take a look at what is happening in San Francisco, where prices are still near all-time highs. The charts below illustrate home prices and wages starting in 2011—the year when both began climbing—and ending in 2017, with the most recent data we have.
---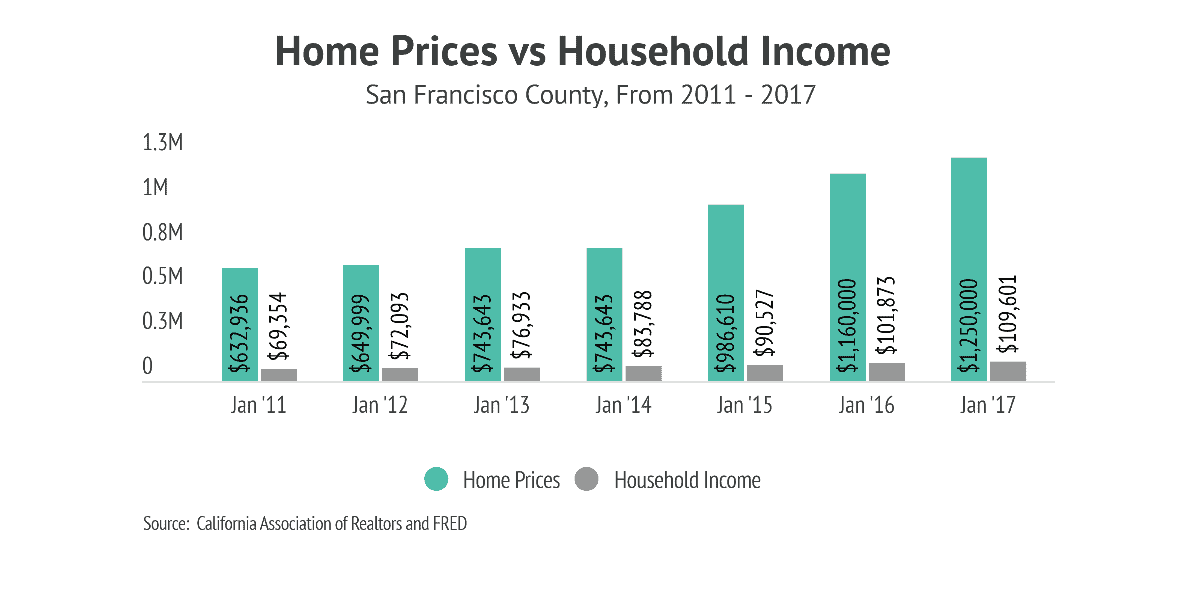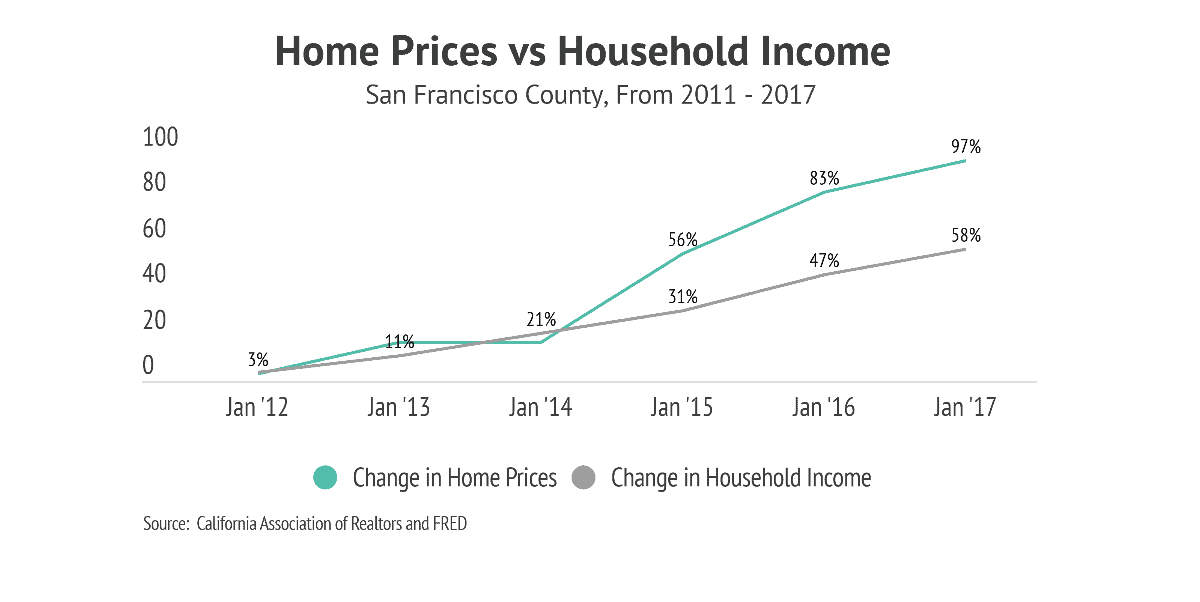 ---
During this six-year period, home prices increased by 97%, while household income grew by only 58%. The widening difference between home price appreciation and wage growth in San Francisco means that housing is becoming increasingly less affordable.
Low rates and the Fed's actions might simply need more time before they influence the housing market. This is especially true because July's market response was muted compared to other times rates fell.
This divergence between home prices and incomes suggests that low rates are usually good. However, this is not the case if they are caused by uncertainty in the rest of the economy, and certainly not when they reach this far into an economic expansion.
---
The San Francisco Housing Market Slowed Due to Inventory
Despite median home prices rising, the market has shown signs of slowing on every other important indicator on a yearly basis. 

Let's start with inventory–also known as active listings– which is seasonal. Active listings usually peak in the summer months and fall in the winter months, around the holiday season. On a three-month rolling average basis (the average of the last three months of activity), there are 315 single-family homes and 423 condos available in the San Francisco market.
---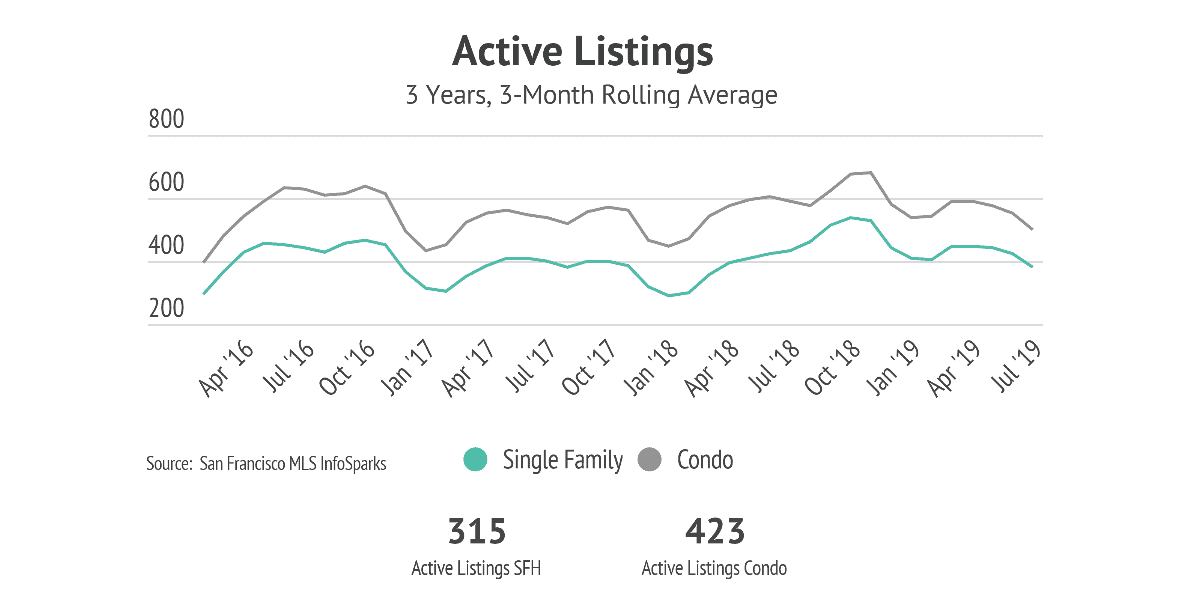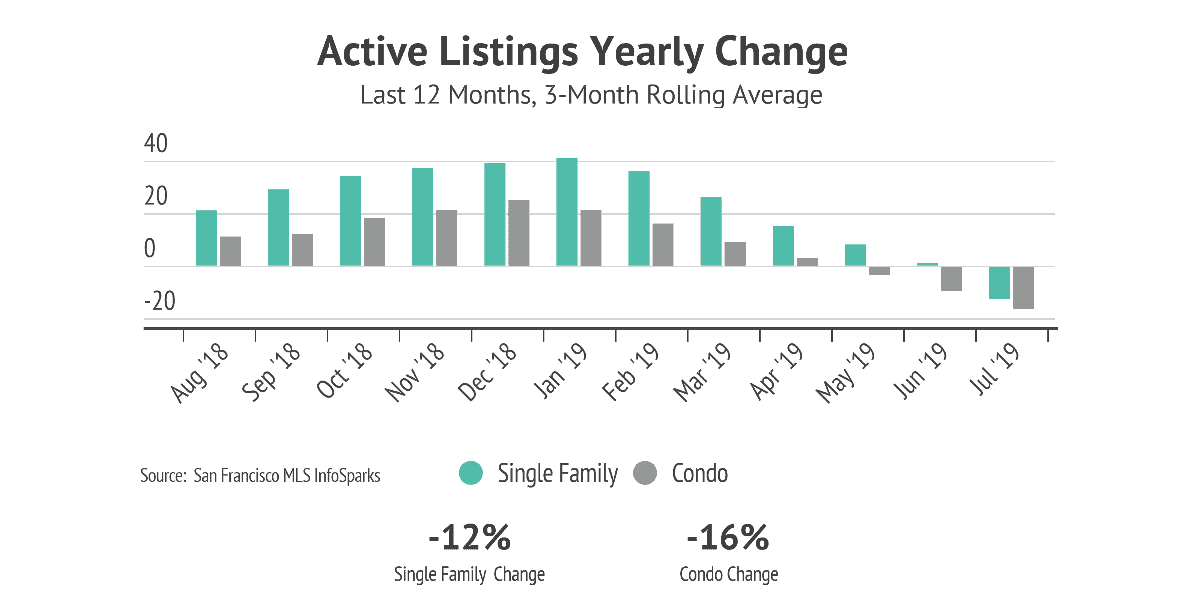 ---
To better understand inventory data, a year-over-year comparison allows us to see trends without seeing the impact of seasonal factors. This view shows us that active listings for single-family homes are down 12%, and condos are down 16% in 2019, compared to 2018 figures. 
A shortage of inventory usually correlates with increasing home prices, but as previously mentioned, both fell in July. Inventory looks like it will continue to be low through the remaining summer and fall months. New listings are down significantly year-over-year, and single-family homes are down 44% from this time last year.
Leslie Appleton-Young, the VP Chief Economist at the California Association of Realtors, suggests:
"The lack of supply of housing will eventually create a situation where the demand moves somewhere else."
New construction of 14 high rises around the Financial District, which will combat low inventory by propelling San Francisco's much-needed investment in residential growth, is a bright spot on the horizon. These buildings are either recently completed or are actively under construction.
---
What's Causing This Unusual Trend of High Demand and Stagnant Home Prices
Jordan Levine, Deputy Chief Economist at the California Association of Realtors, pointed to changes in the tax code as one reason for slowing sales when he said:
"I think part of that is inventory, but I also think that's where we are starting to see some of the cracks of the tax reform side too…Fundamentally what we did is we removed the incentive from home ownership from our federal tax code. What we saw this year from the preliminary numbers this year is that 90 percent of folks took the standard deduction going forward. …That seems to have undermined the motivation for folks to enter the market. Low rates are great, we prefer lower rates to higher rates, but it's not giving the market that kick in the pants that we were expecting."
Changes to the tax code limit the interest-rate deduction for homes above $750,000. This change has the most significant effect on homes in the $1 to $2 million range.
---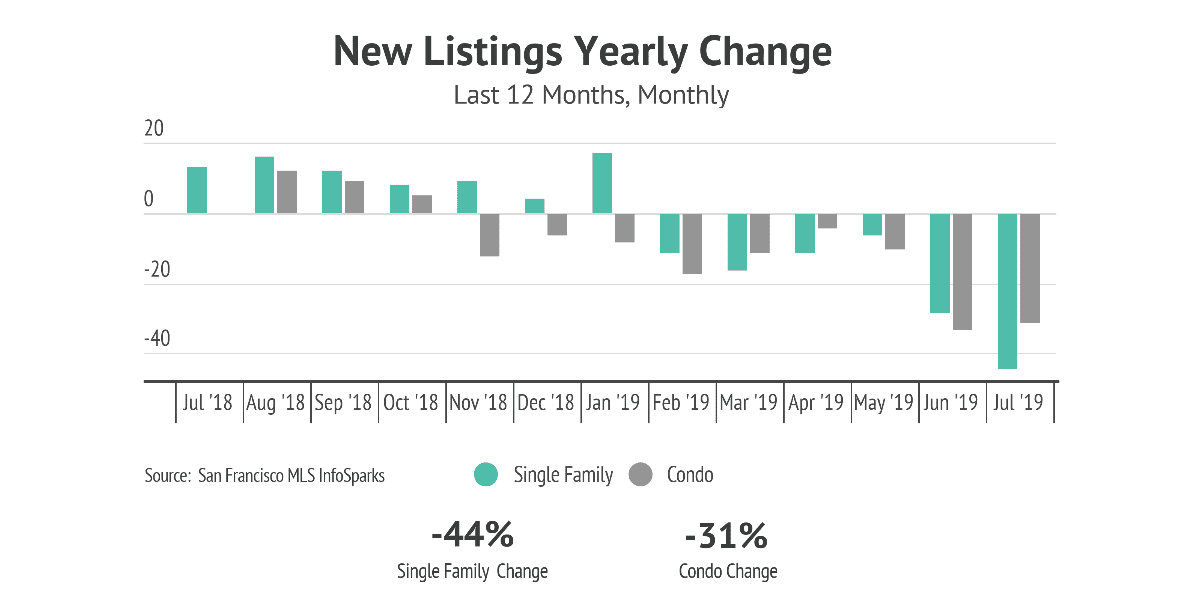 ---
In addition to the tax code changes discussed above, here are a few other possible reasons for these trends.
Californians have been staying in their homes longer. Some homeowners are locked into their homes because they would incur higher property and capital gains taxes if they were to move. 
Many homeowners are delaying selling their home. These homeowners fear they won't be able to find another home to buy. 
---
Affordability
One benefit to the exceptionally low rates and decreased housing prices is affordability. Statewide, monthly mortgage payments have declined, and the same goes for the city of San Francisco.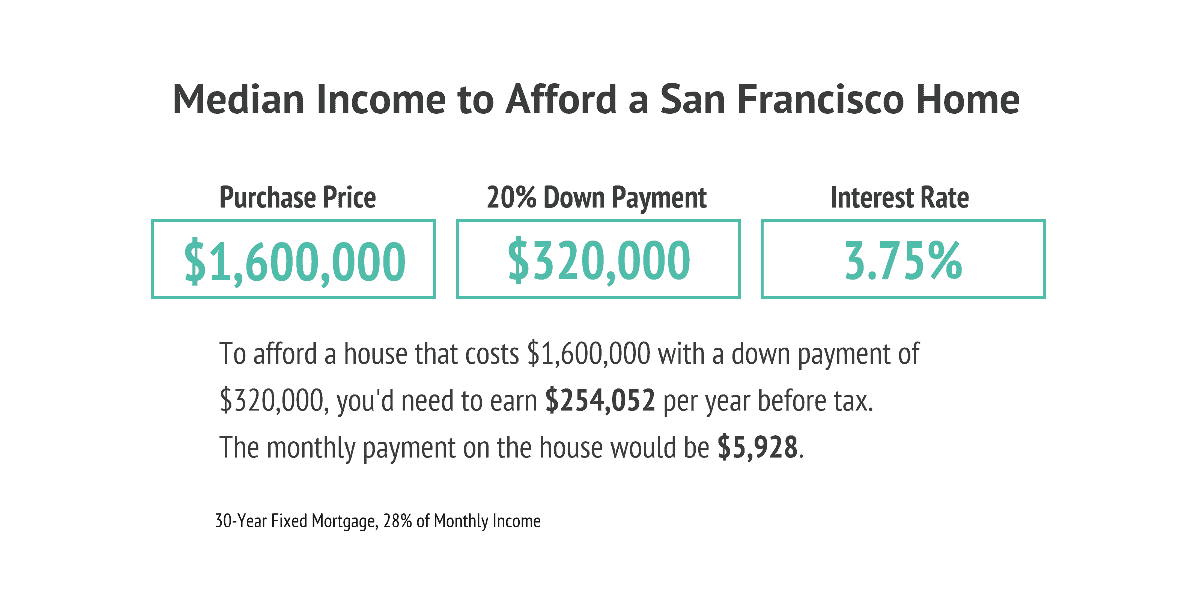 To afford the median San Francisco home, one must pay $5,928 per month, which shows a $700 fall from last month's median monthly payment.

Jared Martin, the President of the California Association of Realtors, nicely recapped the month of June with the following statement:
 
"With softer price growth and interest rates at the lowest levels in nearly three years, monthly mortgage payments on a median-priced home have fallen for four straight months. This allows homebuyers to save hundreds of dollars a month on the same home or to potentially consider a slightly more expensive home for the same monthly cost. Combined with the long-term benefits of homeownership on personal wealth and quality of life, 2019 is a good time to purchase a home for the long haul." 
---
Using Data to Inform Pricing Strategies
Even with July data suggesting that the San Francisco housing market is slowing, becoming more affordable, and backing off all-time high prices – the market still heavily favors sellers.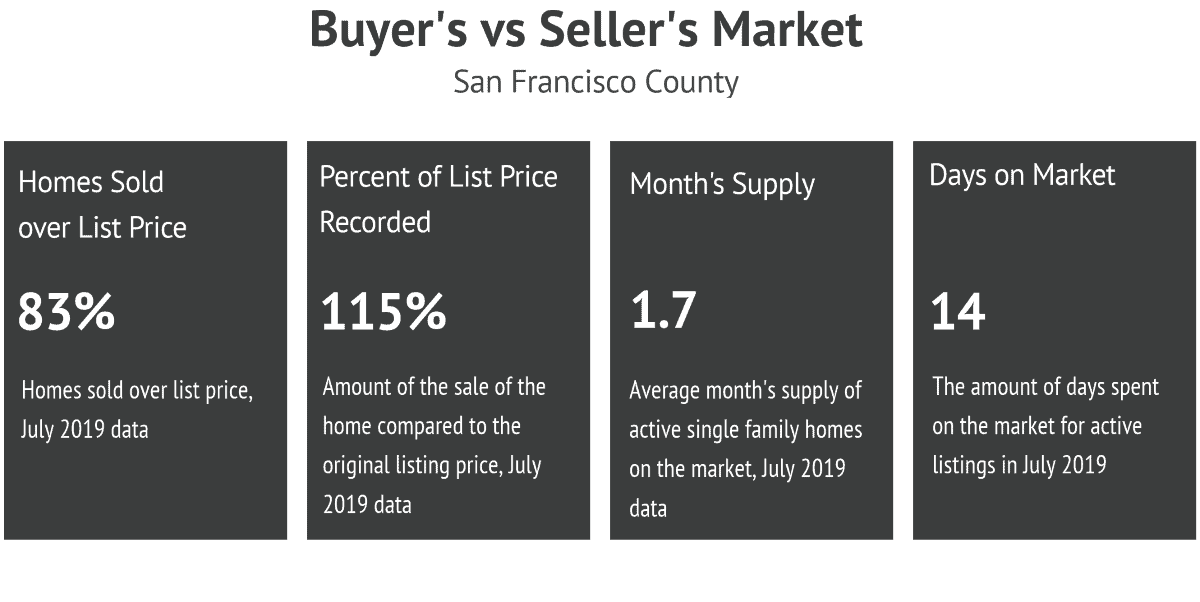 ---
Homes are selling for above list and inventory continues to shrink. But Appleton-Young, who we referenced earlier in this newsletter, warns
"It is absolutely crucial to price the property correctly, and by that I mean don't overprice it, or you are going to be following the market down. The pricing strategies that worked in the market in 2017 don't work in the market in 2019."
One of the biggest mistakes a seller can make is pricing their property too high because they think they can command a price that is no longer consistent with the latest market data. This can cause the property to remain on the market for longer than usual, and may lead to a series of price reductions. As a result, the final sale price falls well below the price sellers should have listed the property at in the first place.

Yes, it's a seller's market, but sellers should be more diligent than ever when pricing their homes.
---
Conclusion
The San Francisco housing market remains one of the most dynamic in the country because it's defined not only by the country's macroeconomic factors, but also by the tech industry, the IPO market, and foreign buyers. For these reasons, San Francisco county regularly sees more variance in month-to-month median prices. 

Broadly, however, the month of July showed signs of caution. August may reverse the trends if prices edge higher once more. However, it's important to be aware that prices are struggling, even against a backdrop of historically low rates. 

Price smart; buy smart.
yournorthpoint.com
1700 Montgomery St #108 San Francisco, CA 94111